Outdoor
Teak Decking
Being naturally weather resistant, outdoor decking is ideal for semi-outdoor or a full outdoor lifestyle spaces. Available in Anti-Slip, E4E and S4S profiles.
Teak
Cladding
Cladding in Burmese Teak is a great way to spruce up your interiors, giving it a modern sophisticated feel. Available in Lap, Ridge, Bevel and other customizable cladding profiles.
Burmese Teak Doors
Exclusive Burmese Teak Doors available in Solid Teak, Finger-Jointed Teak and Veneered Doors configurations.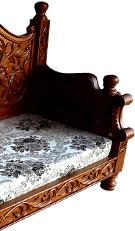 ASK TEAK
CREATE
With Ask Teak Create (ATC)
you can create, customize and apply Authentic Burmese Teak to any furniture design upon request. *T&C applies.
Get the latest updates
Subscribe To Our Newsletter